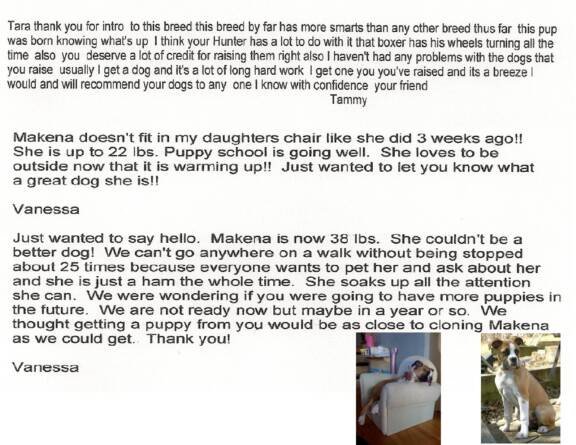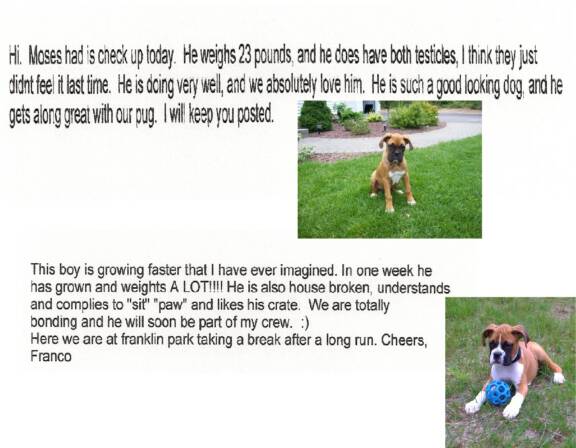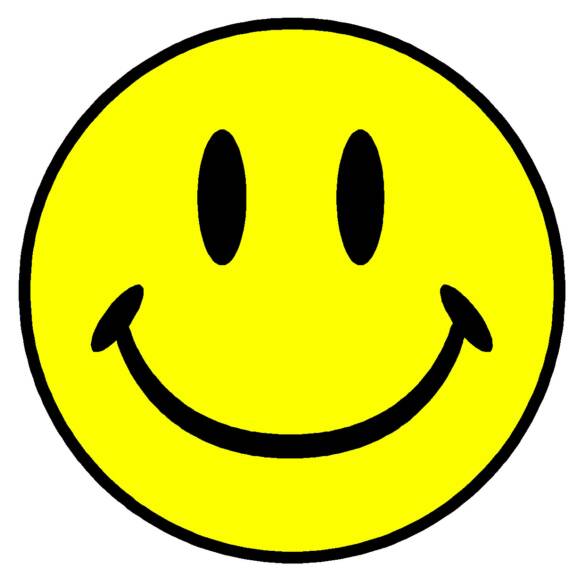 Testimonials from some of our happy customers!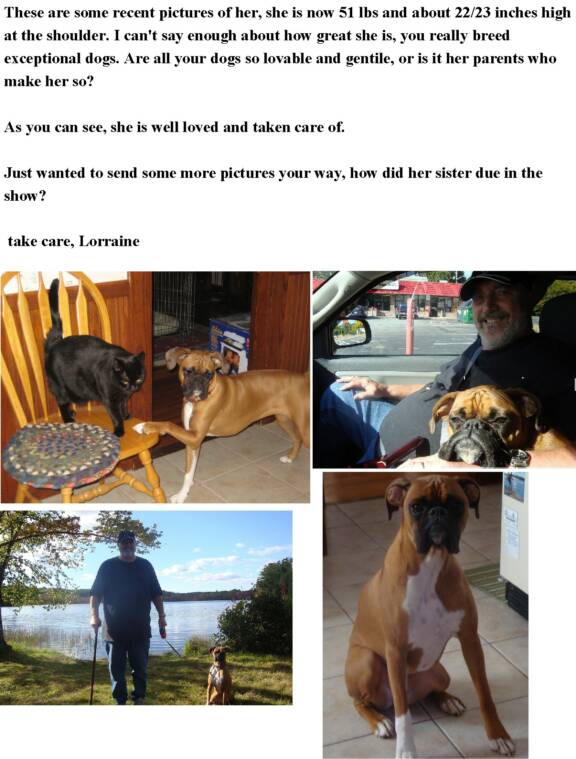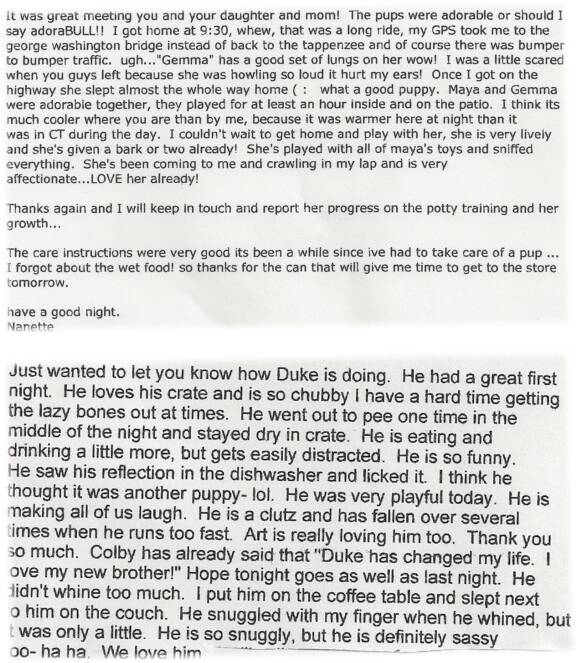 Hello! I just wanted to e-mail you and update you on our little puppy! We named him Windzer. He's getting so big, so fast, and he's really strong. Oh, and he's the cutest puppy too! We recently had him to the vet for his check-up, and he's just perfect, all 25 pounds of him. Actually that was a couple of weeks ago, I'd say that he's really close to 30 lbs. by now. My boyfriend and I just love him, and I couldn't be happier about him as our choice. He's pretty well house trained, and he goes to the door whenever he gets the urge. Also, he loves to run around in our yard and play. I've attached a few pics of him, sorry that it's taken so long, but I just downloaded them from the camera tonight! The second pic is such an action shot...he's being mouthy!!

Gayle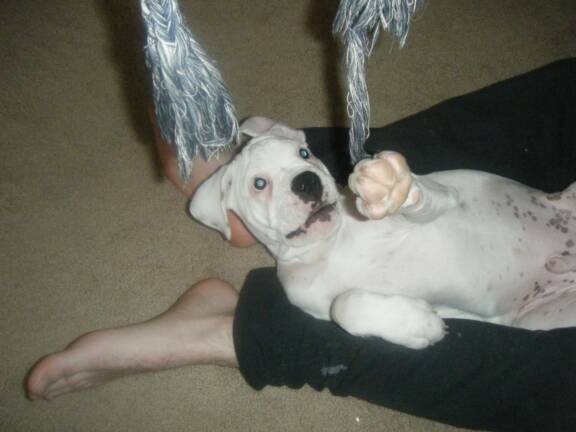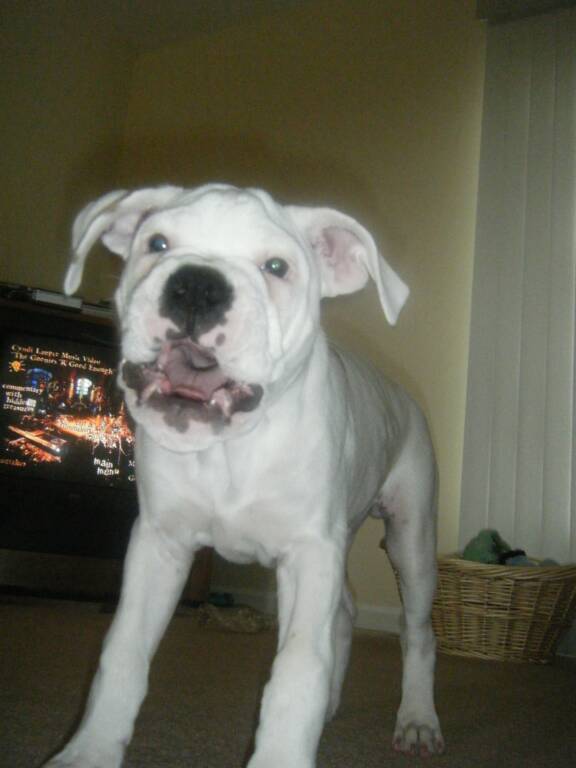 Here are some pictures from vacation and more proof that Gemma is a beauty...everybody comments on her...she is improving with her training all last week...she is a smart little devil!

Nanette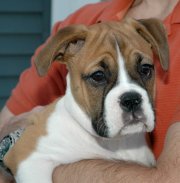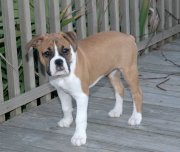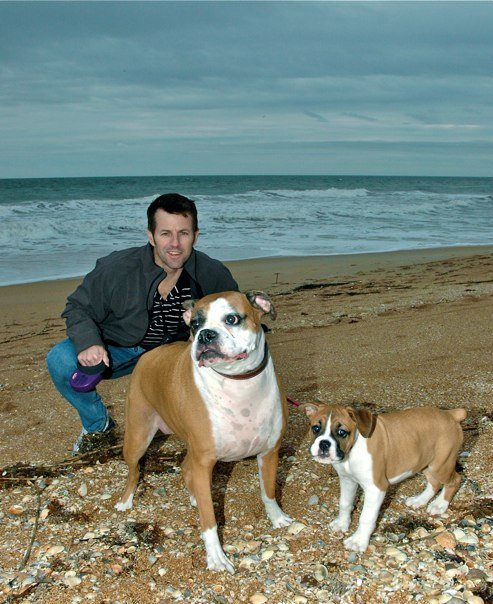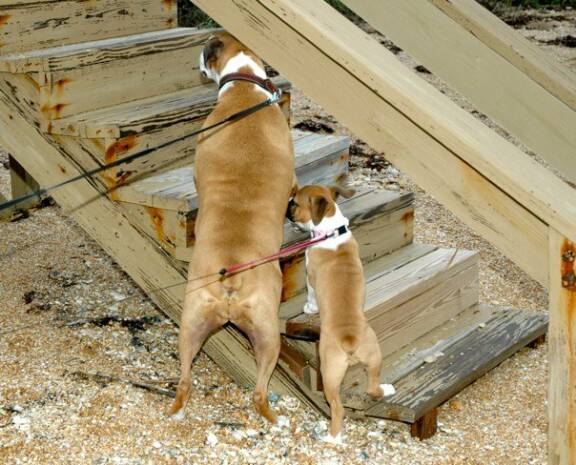 Hi Tara, Whizz is growing fast and has been really easy to train so far. He weighed 15 pounds I think you said when we got him from you and he is already 20 pounds. He has been super around other dogs when we walk him and has been great around strangers and kids.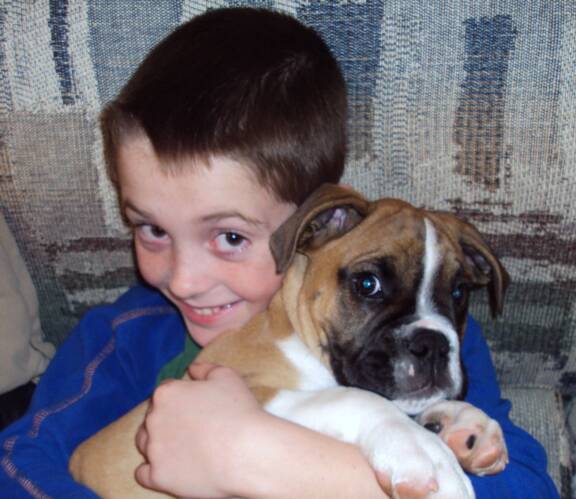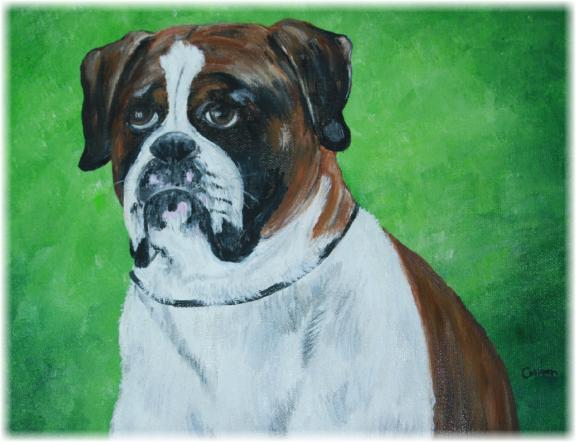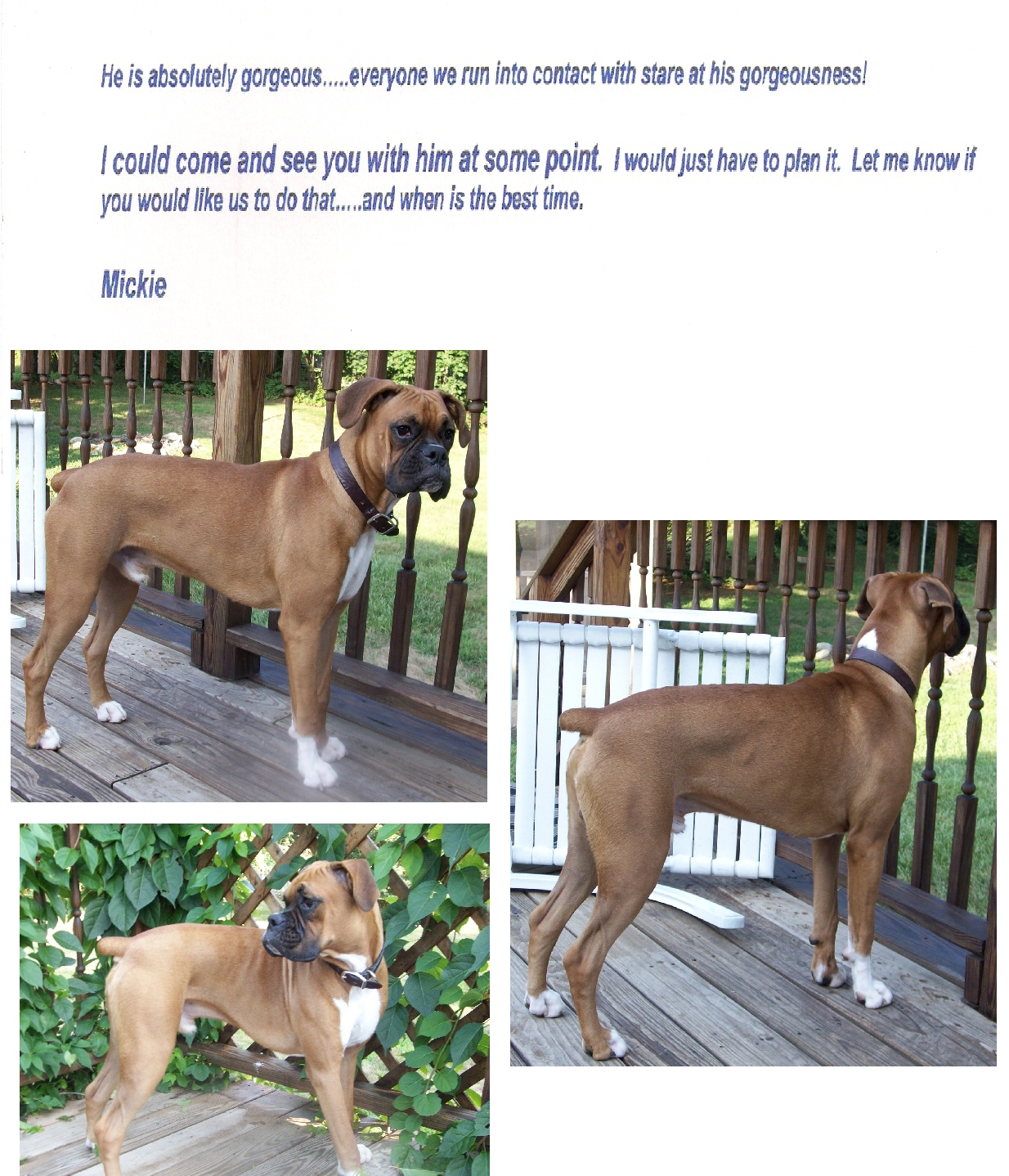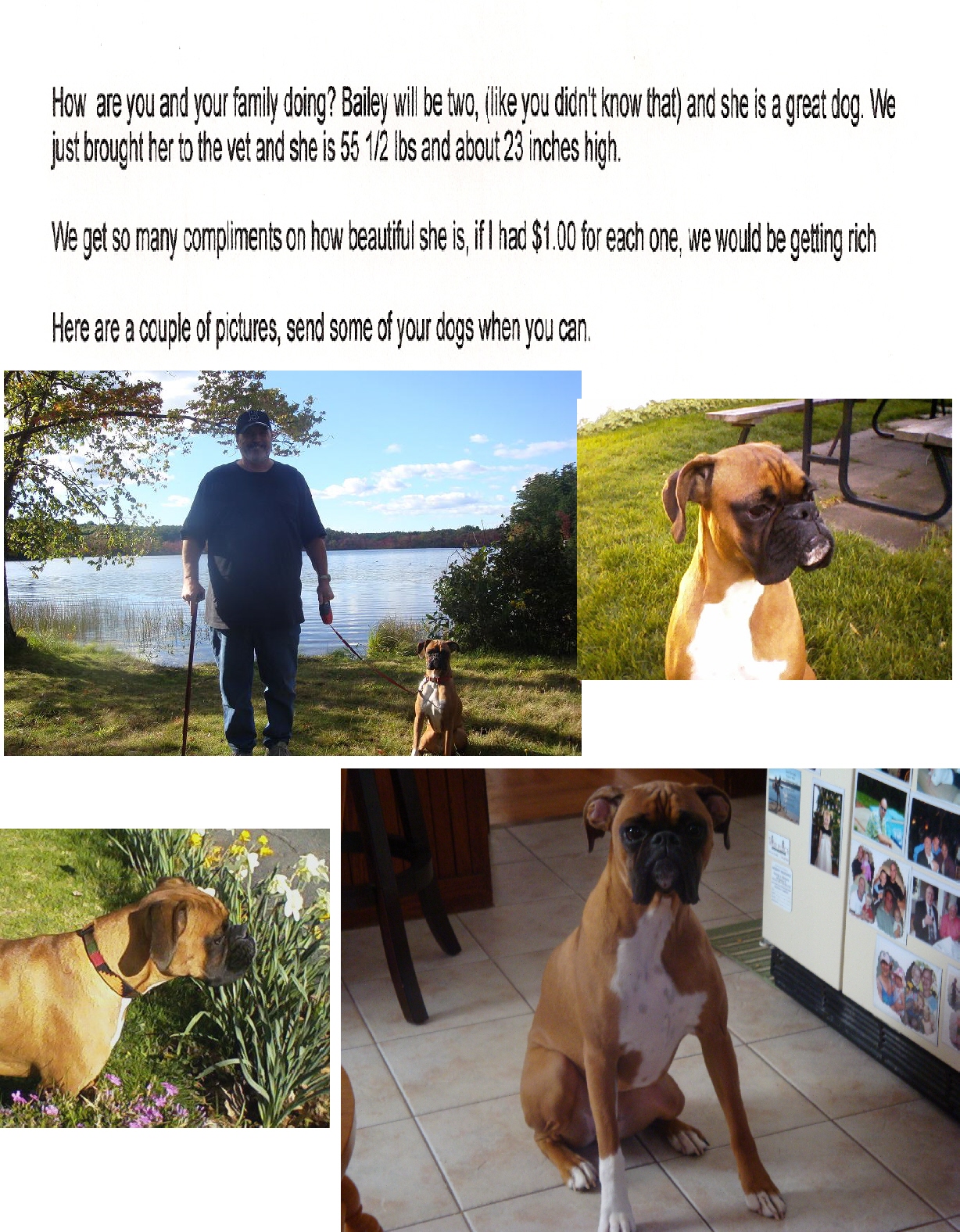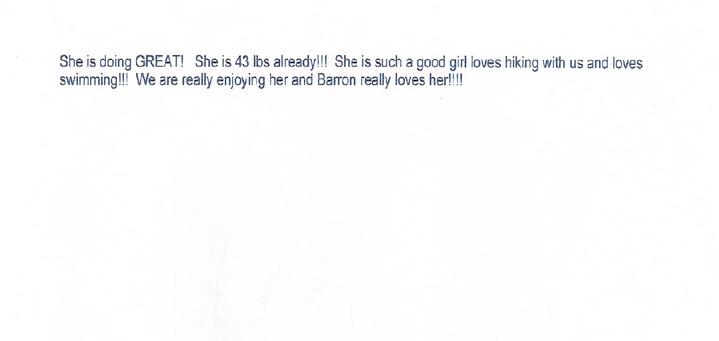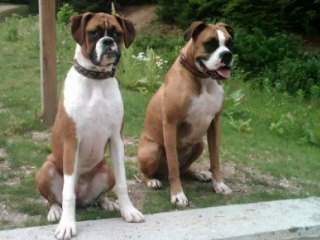 Greta               Barron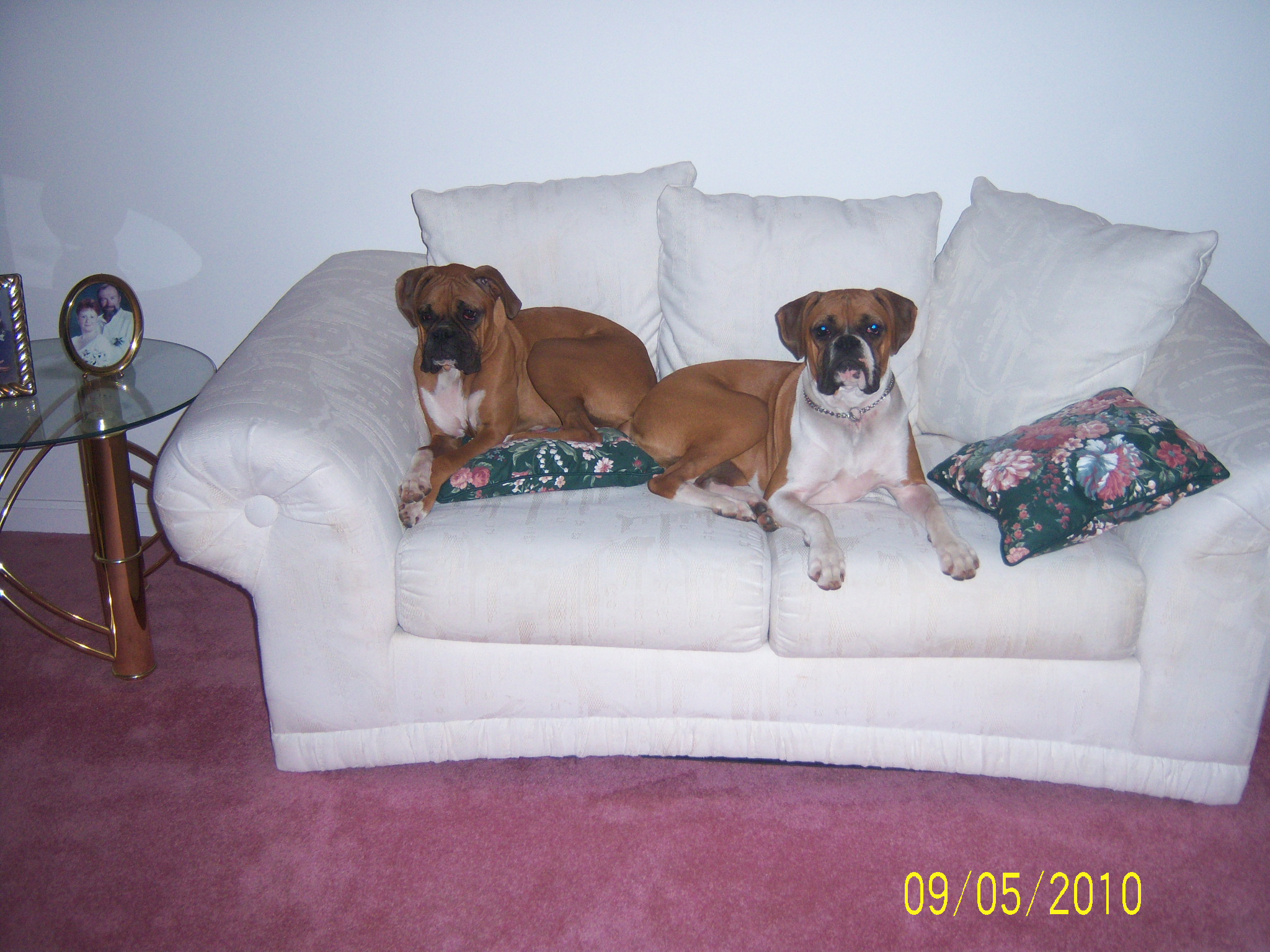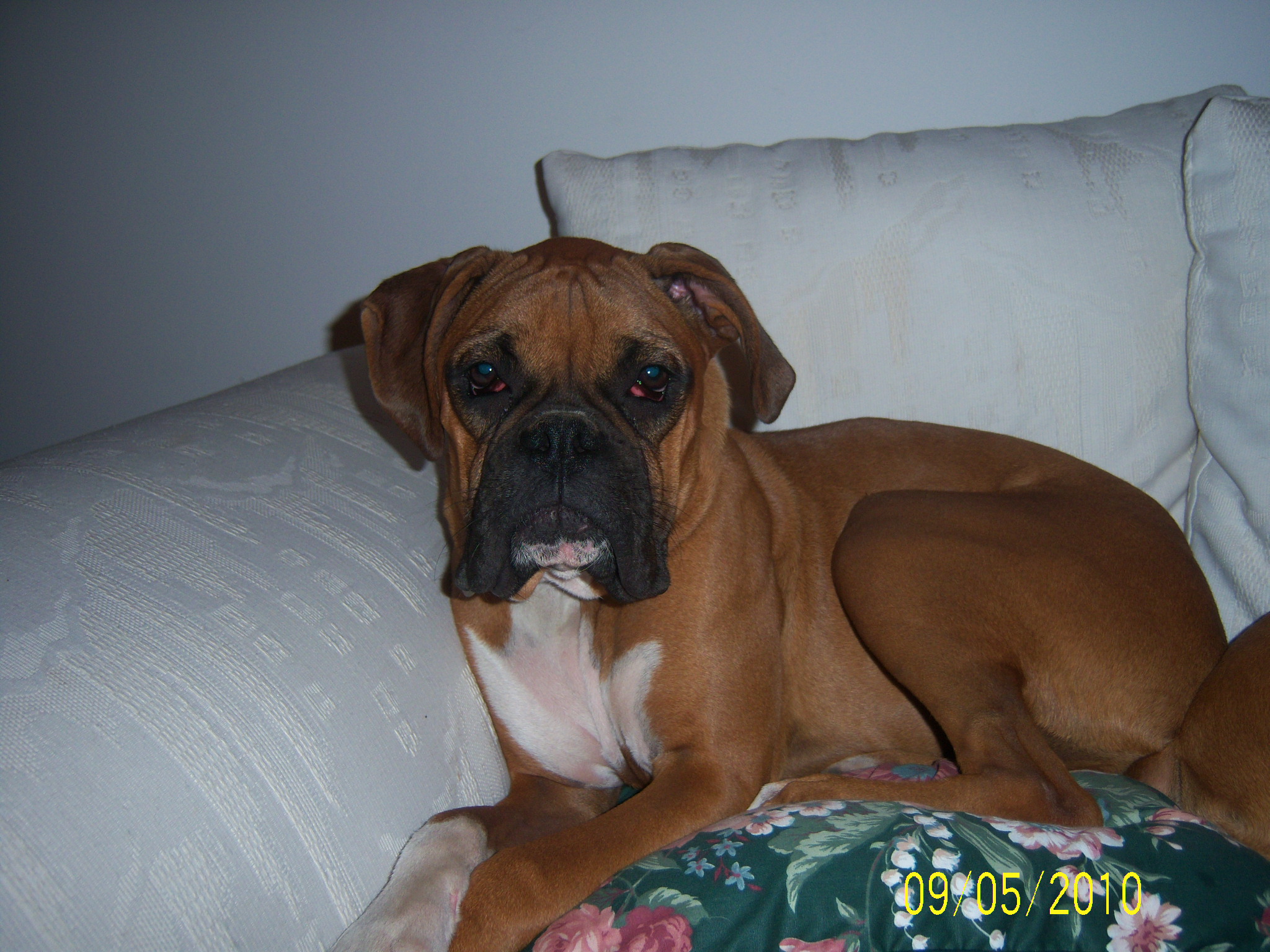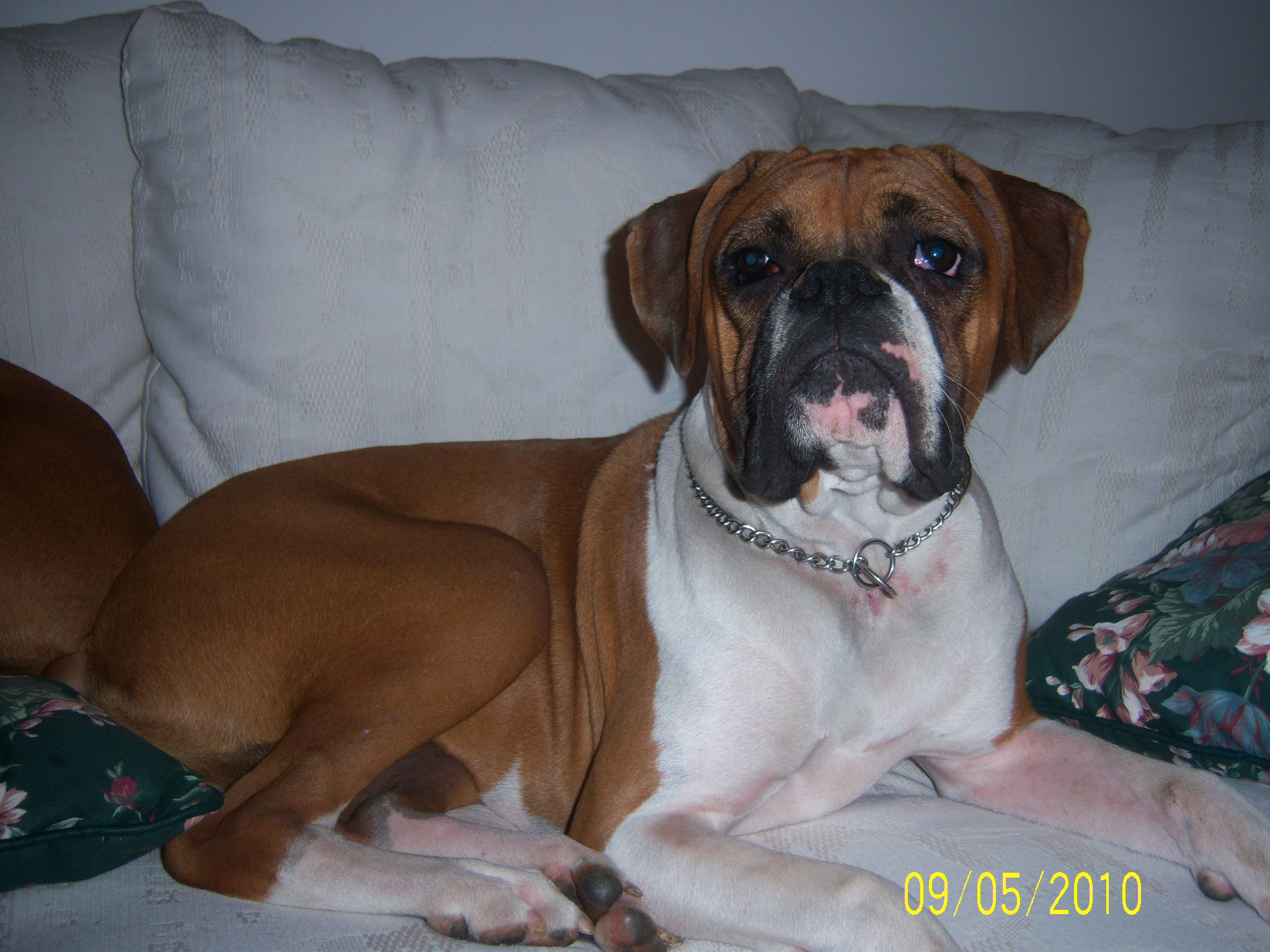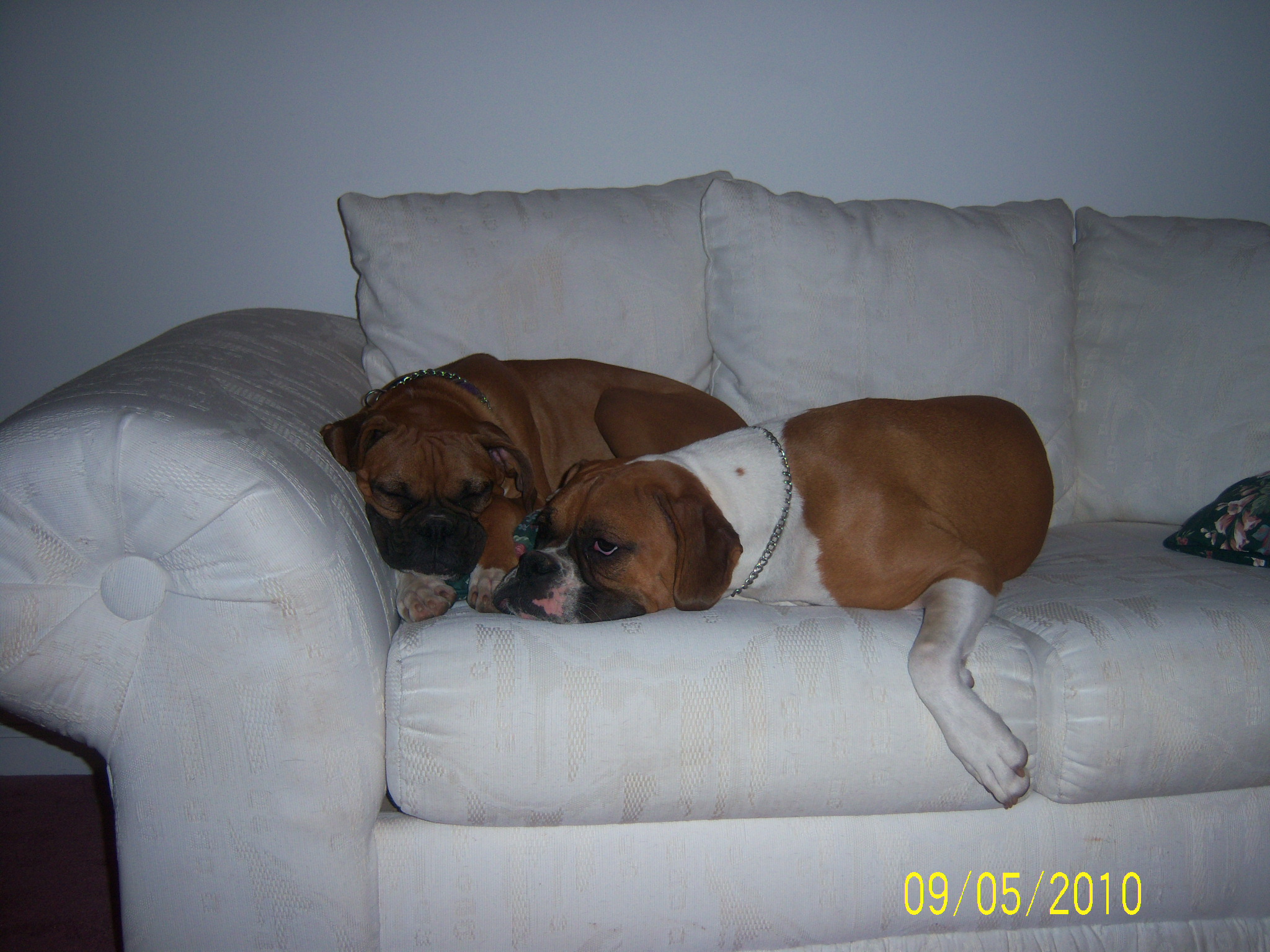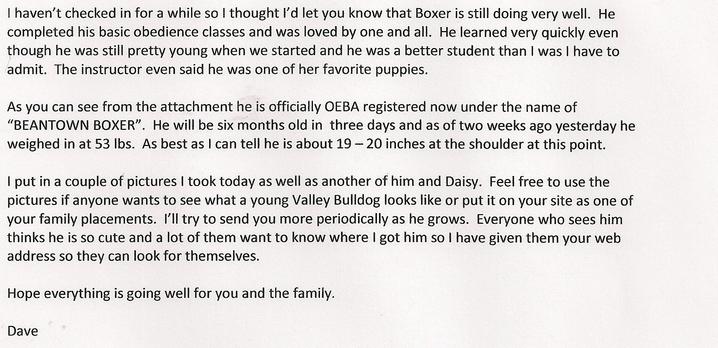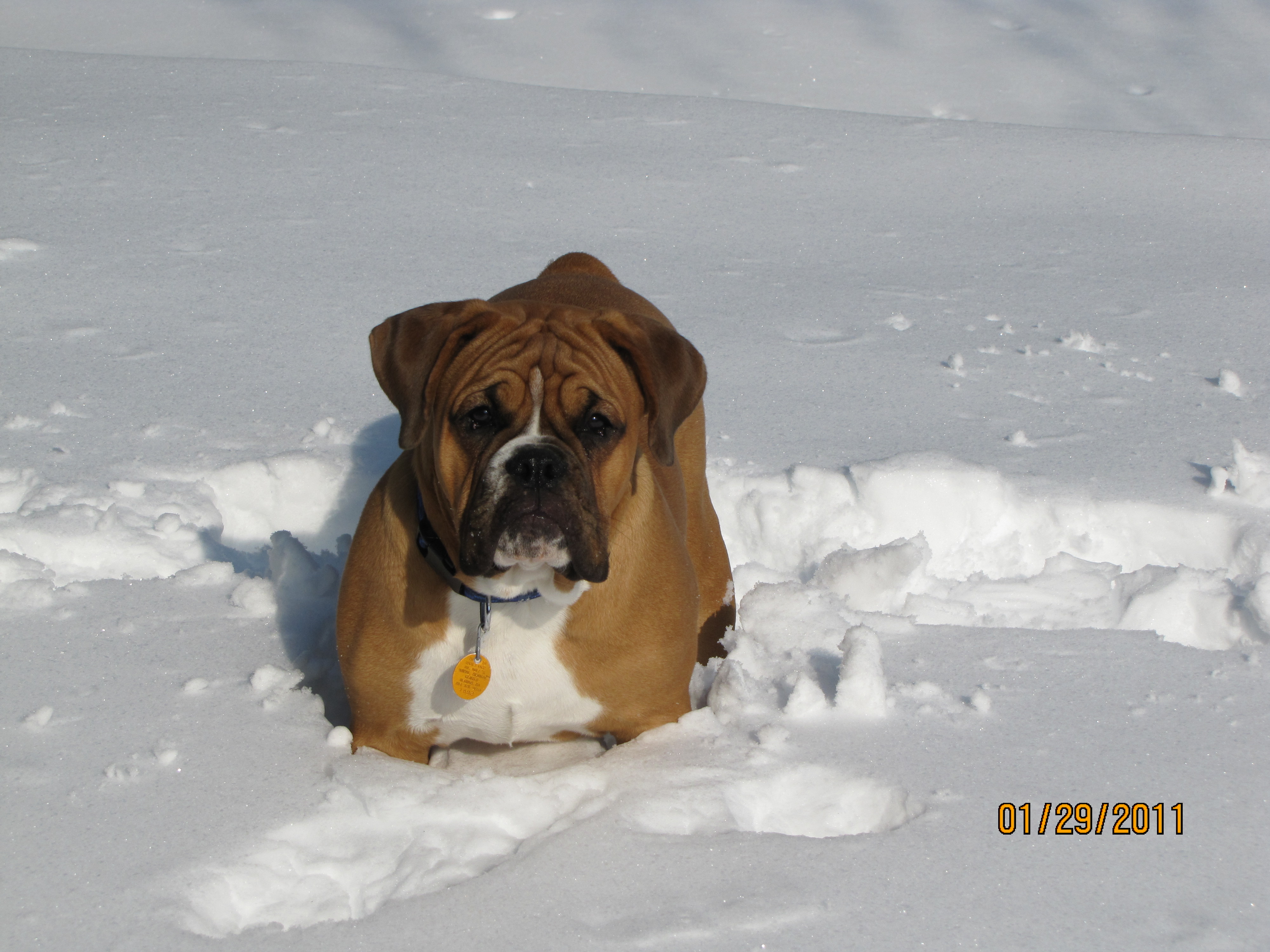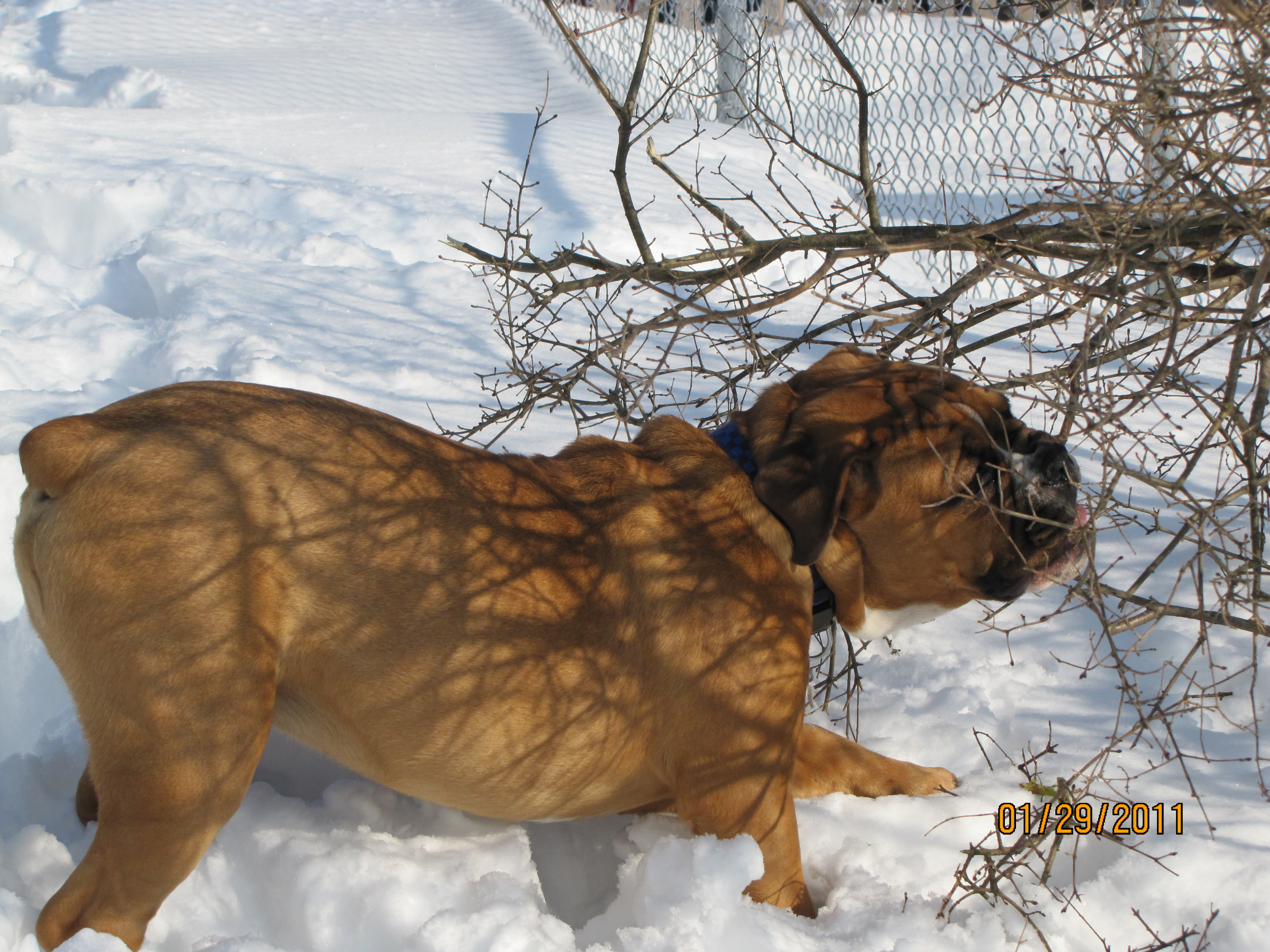 Dear Tara,

I just wanted to let you know how happy we are with our two new boxer babies. Riley and Rocky are so good together. I attribute this to the fine breeding standards that you have set. After meeting you for the first time I knew you were incredible at what you do. Having had several boxers before I thought I knew the breed until I met you. Anyone looking for a quality boxer puppy has come to the right special place. Again THANK YOU SO MUCH!!! Joe & Karen Germain Rutland, MA.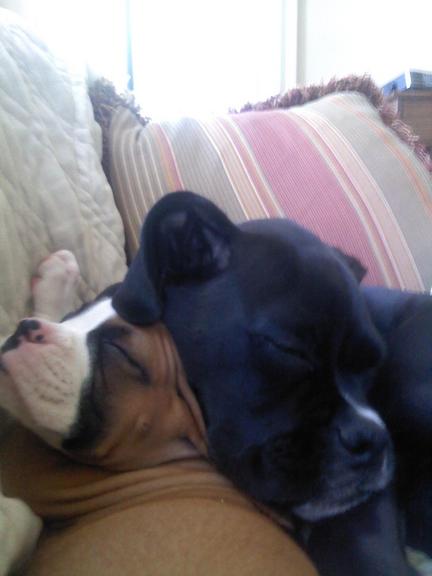 I haven't checked in for a while so I thought I'd let you know that Boxer is still doing very well. He completed his basic obedience classes and was loved by one and all. He learned very quickly even though he was still pretty young when we started and he was a better student than I was I have to admit. The instructor even said he was one of her favorite puppies.  

As you can see from the attachment he is officially OEBA registered now under the name of "BEANTOWN BOXER". He will be six months old in three days and as of two weeks ago yesterday he weighed in at 53 lbs. As best as I can tell he is about 19 – 20 inches at the shoulder at this point. 

I put in a couple of pictures I took today as well as another of him and Daisy. Feel free to use the pictures if anyone wants to see what a young Valley Bulldog looks like or put it on your site as one of your family placements. I'll try to send you more periodically as he grows. Everyone who sees him thinks he is so cute and a lot of them want to know where I got him so I have given them your web address so they can look for themselves.

Hope everything is going well for you and the family.

Dave

Hi, Boxer's birthday was yesterday and we also finally ran into Perry from the Boxer litter you had had the same time Boxer was there with you. I met them before they picked up their dog and haven't run into them since. Snapped a couple of pictures for comparison.

Dave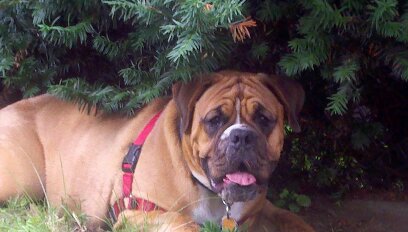 A couple photos from some other happy puppy clients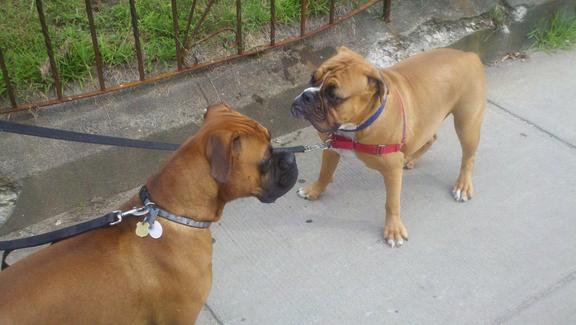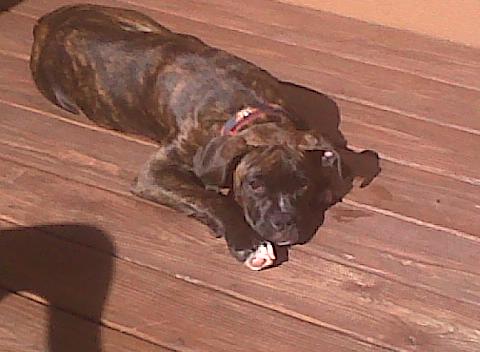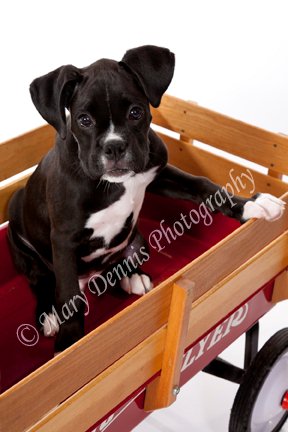 Hello there

Hope all is well—here are some updated pics of Cooper (FKA Titan) J he is getting soooooooooooo big.. he is such a good boy. He gets a lot of love here! He gets a little fresh- likes to nibble. LOL but all in all he is an absolute JOY!!! And have I mentioned SPOILED!!! We let him sleep with us on our bed when we go upstairs at night- then we let him out (oh, Ed carries him because we have to wake him) then he goes into his crate for the night. I can't imagine how that's going to go over when he's 80 pounds or so. LOL he is one funny little dog!

Tara,

  She's getting so big and her little muscles are starting to "pop" and her chest is flaring out.

  She's done well for car rides and is having play dates. Socialization has not been a problem.

She likes bigger dogs she can practice her bobbing and weaving and boxing on, as well as her tactical retreats.

  Fireworks have been a non issue. She couldn't care less and it's simply business as usual.

  By chance, would you have her original web ad picture on your hard drive? I find her transformation mind blowing at this point. 

  She has turned a lot of heads and received many compliments on her coloration and pattern.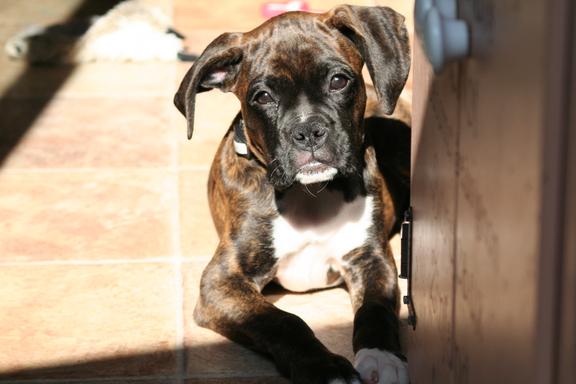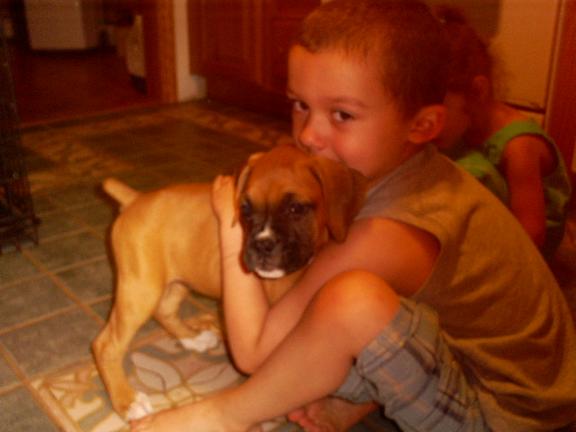 Here are some pics of the kids and Roxy this weekend. 

Hi Tara....

I hope all is well!

I just wanted to thank you for the puppy. He has been such a joy the last few months and is loved by all. People literally stop in their cars to look at him!

I am sending you a picture from our wedding day with him and will send others with him by himself so you can see how he is growing...his vet tells us he is perfect and healthy!

Thank you again!

Bridgette and Eric Ridlon 

PS...Boxers are becomming more and more popular in our area and when asked where Cash came from we are referring them all to you.

=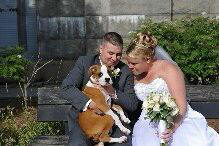 tara,

  want to thank you so much for our wonderful boxer Jada she is getting so big!!!

she is so smart and she is already doing very well with house training. she also sits,gives paw,

lays down and rolls over!!! we will send u more pictures of her as she grows. and to let you know i

have already highly recomended you to a few people who have asked me for a real good breeder.

i will keep in touch, and cant wait to get another one from you again in the near future!! thank you 

so much!!

  angela dusseault. woonsocket ri.

  kyle savoie Sr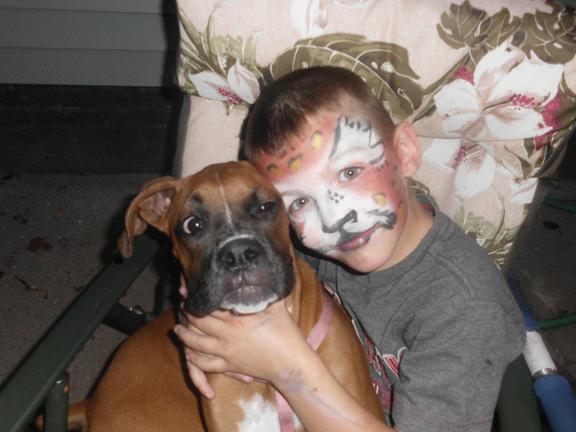 Here they are enjoying the nice fall day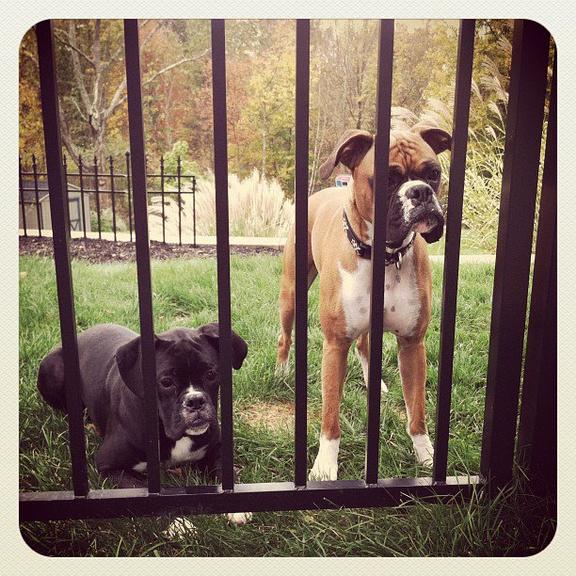 Buddy is still ruleing the house.